Knowledge Center
We've created these resource articles for explanations, tips, suggestions, and more, to help customers with their shopping questions and decisions. Also, feel free to live chat or call our customer service team anytime Monday through Friday, 9 am to 4 pm (CST), or email us at customerservice@partylights.com.
---
Our String Lights category doesn't carry EVERY combination possible. We sell all our string light cords and bulbs separately too so you can easily build your own ideal string lights!
Hanging outdoor string lighting is an easy project, but does require some planning. You need the right product, the right tools and a design in mind when hanging your globe string lights.
PartyLights.com hopes to take the guessing game out of decorative string light shopping. There are several light bulb base sizes and shapes. We've provided this guide to help you understand industry terms and bulb identification.
LED lights have grown in popularity over the last several years. One thing that confuses customers is the color temperature of LED bulbs. This article explains and shows the variances.
For longer runs of string lights one must keep in mind the "max run" that a cord will safely allow. Use this handy calculator below to ensure your cord isn't overloaded.
Bulb shapes may be similar, but LED and incandescent bulbs have their own unique characteristics and benefits. This article explains their differences to help you make the right choice with string lights.
When you hear commercial grade, it is the actual stringer, not the light bulbs, that make string lights "commercial grade". Light bulbs can be used interchangeably with both standard grade and commercial grade stingers.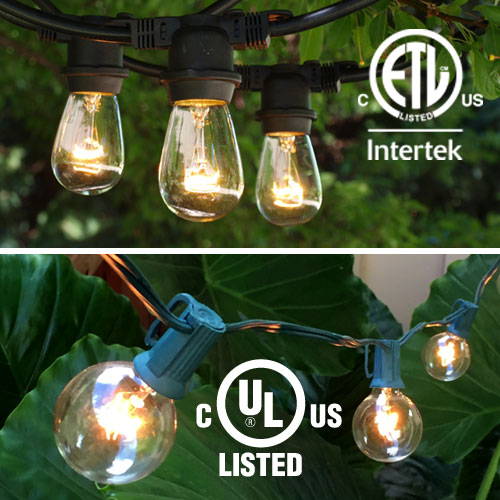 What exactly does it mean for string lights to be UL or ETL Listed? We've answered some of the most common questions for a better understanding of this technical mark related to decorative string lighting.
Our lanterns are packaged and shipped flat to save space and are very easy to assemble. Every package should include assembly instructions. If you didn't get or can't find the instructions, follow these steps.
If you're looking for less technical and more inspirational articles, PartyLights.com brings you Bright Ideas for indoor and outdoor string and decor lighting needs. Enjoy a wealth of lighting ideas for your patio, wedding, party, holidays, and more!