Why Buy Commercial Grade String Lights?
When you hear commercial grade, it is the actual stringer, not the light bulbs, that make string lights "commercial grade". Light bulbs can be used interchangeably with both standard grade and commercial grade stingers, as long as the base size of the bulb matches the socket size of the cord (see our Bulb & Socket Guide for more details). There is a wide variety of bulb options for our stringers, including LED.
Commercial Grade
Commercial grade string light cords are made from heavy duty wire and have special weather-proof sockets that form a seal around the light bulb to keep water out. Commercial grade stringers are recommended for permanent installations intended to be left up year-round and are suitable for hard-wiring. Some customers chose them simply because they're great looking, are long lasting and add a professional look to their backyard.
Standard Grade
Standard grade stringers are also suitable for indoor or outdoor installations. They can also be left up year round, but typically do not last as many years as commercial grade string lights. Their lower price point makes them more practical for events and smaller, less permanent applications.
Commercial Grade Socket Size Options
There are two base sizes of commercial grade string lights offered in ready-to-plug-in lengths: Commercial C9 and Commercial Medium. Both sizes are very popular and can be used for permanent outdoor lighting. Generally speaking, commercial medium base is more popular for larger jobs with multiple lengths. Commercial C9 is more popular for smaller spaces since it is lighter weight and smaller size bulbs.
Commercial C9 String Light Cords are made from 16 gauge wire and has a smaller socket size with 15" spacing between sockets. The typical bulb used in them is the 7 watt, G50 Globe Bulb (pictured below), but you can use any C9-base incandescent or LED bulb. The cord is offered in 25' or 100' lengths and multiple strands can be plugged together for a maximum run of 1200 watts. Custom Length C9 Cords are also available for those needed a specific length for their backyard or patio.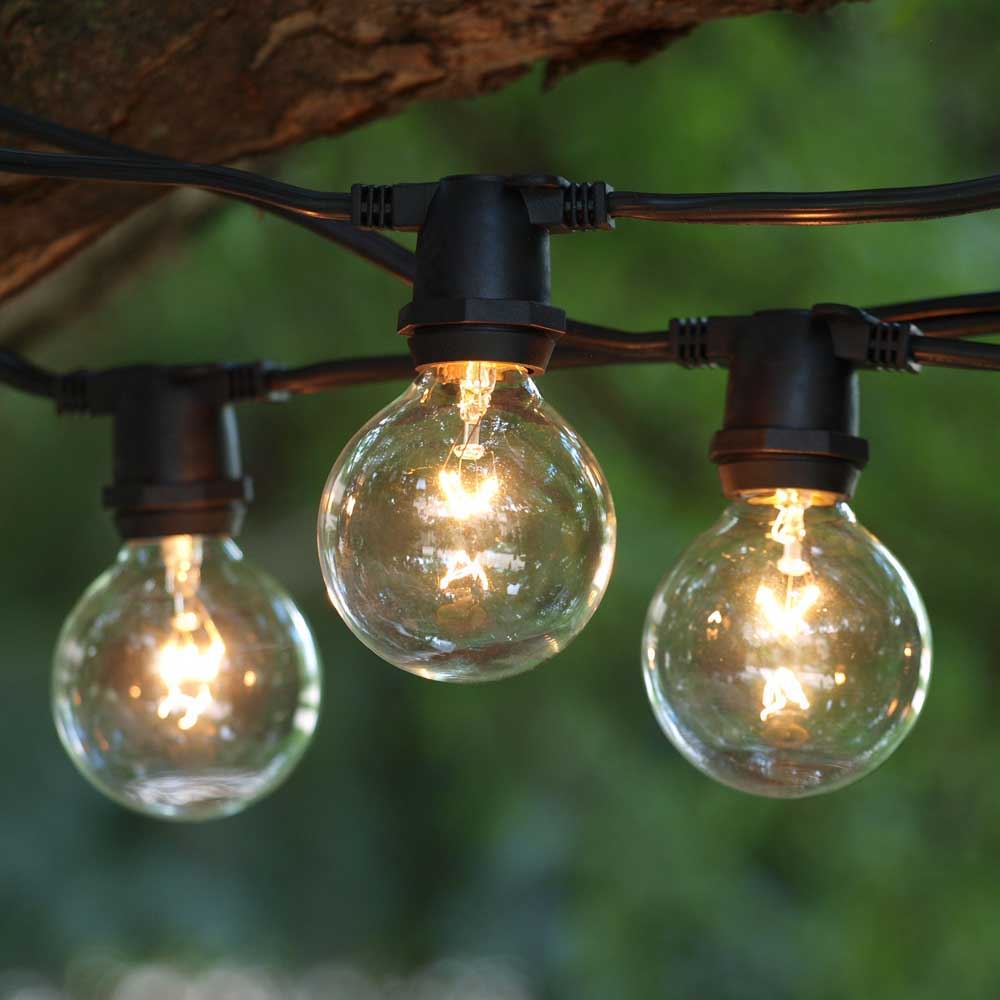 Commercial Medium String Light Cords are made from 14 gauge round, insulated wire and have a standard household socket size with 24" spacing between sockets. It is offered in two styles: regular and suspended socket. Suspended sockets drop down from the wire and dangle, while regular sockets are mounted on the wire. A popular bulb paired with this cord is the 11-watt, 11S14 bulb (shown below), but you can use any medium-base incandescent or LED bulb up to 25 watts with these strands. Commercial medium base strands are offered in 48' and 100' lengths. They have a male plug, and the cord ends with an end cap. They can be altered to make longer runs but cannot go over the 1800 watt maximum. Custom Length Medium Base Cords (black only) are also available.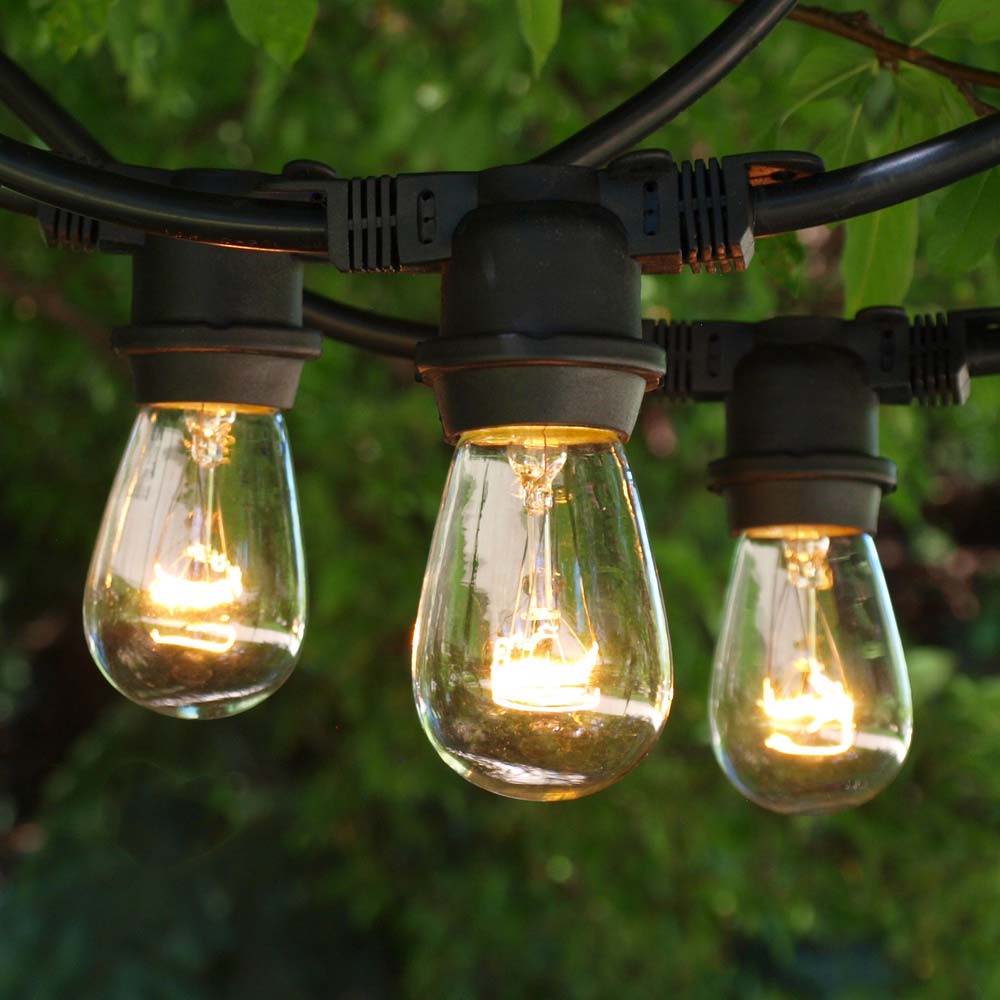 Bulk Reels
Commercial Grade Bulk Reels are also available in three different socket sizes: C7, C9 and medium base. They are 330' in length, and are perfect for for larger, do-it-yourself projects. There is no plug with the bulk reel string light cords, as they are typically used for hard-wired, permanent installations.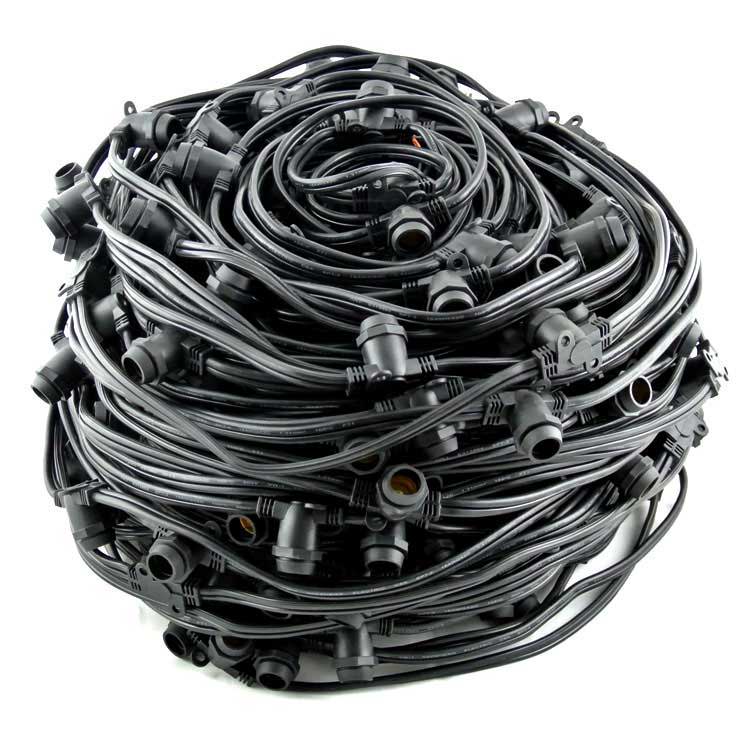 Have additional questions? Email our knowledgeable Customer Service at customerservice@partylights.com, or call 866-758-5836 (Mon-Fri 8-5 CST).