Shipping
MEMORIAL DAY
We will be closed on Monday, May 29. Any orders placed after 1:00 pm CST on Friday, May 26 will ship on Tuesday, May 30.
Shipping Method
PartyLights.com offers UPS, UPS SurePost and USPS shipping options. UPS operates Monday thru Friday except all major holidays. UPS DOES NOT deliver on Saturday or Sunday. Call if you would like Saturday delivery.
When Will My Order Be Shipped?
Orders of in-stock items placed before 1:00 pm CST Monday through Friday ship the same business day. Orders received after 1:00 pm CST will ship the following business day. Additional considerations with warehouse processing times are as follows:
Availability — Some items require additional processing time (typically 3-5 business day). This will be noted on the item page next to the "Availability" heading (just above the price). These items will be shipped via UPS within 3-5 business days (see transit time estimates below).
USPS — Orders that require the use of USPS may take 1-2 extra days to leave our warehouse.
Warehouse Pickup — For orders placed in the greater Houston area, free warehouse pickup is an option during checkout. Indicate in comments the date and approximate time you'd like to pick up your order. Please allow at least a couple hours for us to get your order ready. Pickups can be done Monday through Friday 10am–4pm.
If any part of your order is backordered, we will hold your entire order until all items are ready to be shipped. If we have any questions about your order, we will contact you via phone or email.
Shipping Time
Depending on the shipping method chosen and processing times mentioned above, here's estimated shipping time on orders:
UPS Ground — See map below for the estimated number of days in transit once your order leaves our warehouse. Allow 4-7 days transit time for shipments to Alaska, Hawaii, Puerto Rico and US territories.
UPS SurePost — Orders are shipped via UPS but final delivery is often finished by USPS. Allow an additional 3-4 days for shipping to contiguous 48 states and 7-14 days for shipments to Alaska, Hawaii, Puerto Rico and US territories. UPS SurePost estimated in transit times are not guaranteed.
NOTE: Only Express shipping is guaranteed. Severe weather, natural disasters, and other conditions beyond the control of UPS can occasionally disrupt services. See the UPS website for active service alerts.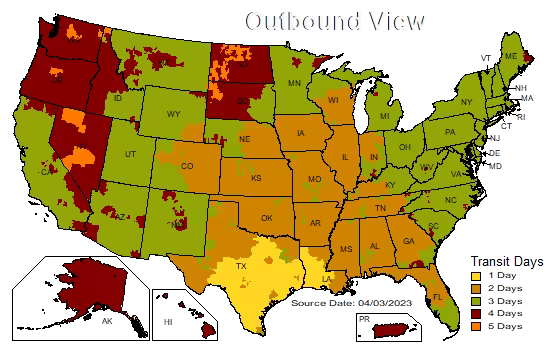 APO and PO Box Shipments
Shipments to APO and PO Box addresses are shipped USPS Priority Mail. Allow 1-2 extra days for your order to leave our warehouse.
International Shipments
Currently we only ship to Canada. We use UPS due to the quicker ship times, better express options, better package tracking, and quicker clearing of customs. The times in transit are all listed as ranges because delivery always depends on how quickly a package clears customs. We do have a Non-Resident Importer account through UPS which helps our packages clear customs faster. PartyLights.com also pays all duties and taxes, therefore, you are not responsible for any additional shipping costs.
Express Shipping
UPS offers a wide range of express options including Overnight, 2nd Day and 3rd Day. These options are guaranteed whereas Ground is not guaranteed.
EXAMPLE: If you place your order on Monday before 1:00 CST and select Overnight, you will receive your package on Tuesday. If you select 2nd Day, you will receive it on Wednesday and 3rd Day will be delivered on Thursday.
UPS has until the end of the day Monday-Friday to delivery all express and ground packages. Overnight Next Day Air is delivered by 10:30 a.m. in most locations and by noon or end of day in remote locations. Call if you have any questions about delivery times or need a package delivered on Saturday.
Holidays
During the year we are closed the following days: New Year's Day, Memorial Day, July 4th, Labor Day, Thanksgiving, the Friday after Thanksgiving, Christmas Eve, Christmas Day, and New Year's Eve. If UPS is closed in addition to any of these days, we will be closed as well. UPS is open on the Friday after Thanksgiving, so packages will be delivered accordingly. On Christmas Eve and New Year's Eve, UPS does deliver all packages, however there is no package pick up.
If you have any questions regarding shipping methods, please e-mail us or call us at 866-758-5836, Monday-Friday between 10 am and 3 pm CST.